Cipher, 1st Winner and Best Design Vocational Worldwide Olympiad UI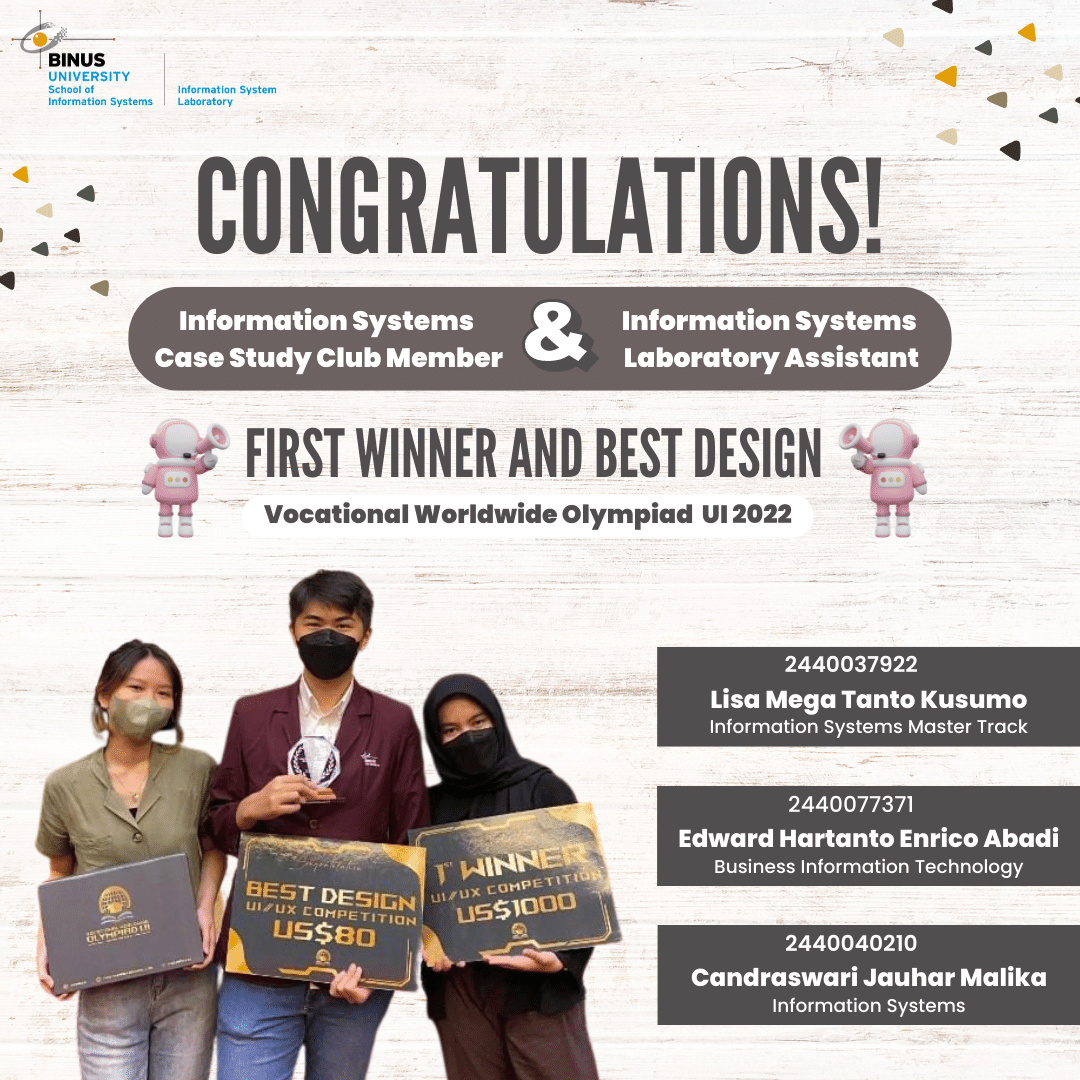 29 Oktober 2022 – Selamat kepada Tim Cipher yang berhasil menduduki juara 1 dan desain terbaik pada lomba Vocational Worldwide Olympiad UI yang diadakan oleh Education and Science Department of The Vocational Students Executive Boards of Universitas Indonesia dengan kategori lomba UI/UX Design.
Sesuai dengan penjelasan diatas, kategori lomba yang diikuti dalam Vocational Worldwide Olympiad UI adalah User Interface and User Experience (UI/UX Designing Competition). UI/UX Design merupakan kompetisi berskala Internasional yang diadakan secara on-site mengenai kemampuan untuk menciptakan inovasi desain yang paling baik dengan tema "The response of the digital era to make it easier for MSMEs to transform".  Kompetisi ini berjalan 2 tahap, yaitu:
Pendaftaran Lomba dan pengumpulan proposal (Seleksi Top 5)
Final (Presentations)
Tidak mau ketinggalan, member dari Information Systems Case Study Club (ISCSC) dan Information Systems Laboratory Asisstant menggunakan kesempatan ini dengan baik untuk membentuk tim yang diberi nama Tim Cipher. Tim Cipher sendiri beranggotakan Edward Hartanto Enrico Abadi, Lisa Mega Tanto Kusumo dan Candraswari Jauhar Malika. Mereka berpartisipasi dalam lomba dengan tujuan menjadi pemenang untuk lomba Vocational Worldwide Olympiad UI.
Pada tahap pertama para peserta akan melakukan pendaftaran dan mengumpulkan proposal yang dibuat. Proposal yang dibuat oleh seluruh tim harus sesuai dengan ketentuan yang telah ditetapkan oleh pihak lomba seperti, menjelaskan setiap proses desain yang telah dibuat dan membuat prototype yang sudah high fidelity dengan minimal 10 gambar. Tim Cipher berusaha dengan baik untuk menciptakan ide semenarik mungkin dibantu oleh mentor dan dosen pembimbing. Tim Cipher juga sangat kreatif dan berinovasi dalam mengembangkan ide, Tim Cipher pun menerima dengan baik arahan serta masukkan yang diberikan oleh mentor dan dosen pembimbing sehingga menghasilkan ide yang cemerlang.
Berdasarkan hasil proposal yang telah dikumpulkan, tiba saatnya pada pengumuman Top 5 dengan ide terbaik yang telah dikumpulkan oleh seluruh tim dan Tim Cipher berhasil masuk ke dalam Top 5 yang artinya tim berhasil lolos ke tahap final.
Sebelum menuju final, Tim Cipher mempersiapkan bahan presentasi yang akan dibawakan nantinya pada saat lomba berlangsung dipandu dengan mentor serta dosen pembimbing. Tahap Final akan dilaksanakan pada tanggal 9 Oktober 2022 secara online melalui zoom. Tim yang masuk ke dalam Top 5 akan melakukan presentasi hasil ide yang mereka sudah buat selama 10 menit dan proses QnA dengan juri selama 10 menit. Tim Cipher mempresentasikan semua yang sudah dibuat dengan baik dan menjawab pertanyaan yang di lontarkan oleh juri pun dengan amat sangat baik.
Tidak seperti lomba pada umumnya, setelah melakukan presentasi setiap tim harus menunggu hasil pengumuman lomba yang diumumkan pada tanggal 29 Oktober 2022 secara on-site di Universitas Indonesia. Nantinya ada beberapa kategori pemenang seperti, Juara 1, Juara 2, Juara 3, Presentasi terbaik, Desain terbaik dan Tim terfavorit. Tiba waktunya pada hari pengumuman, perasaan menegangkan dirasakan oleh Tim Cipher, MC mengumumkan hasil pemenang lomba. Berdasarkan hasil yang diumumkan bahwa Tim Cipher berhasil menjadi Juara 1 dan Desain terbaik dalam Lomba Vocational Worldwide Olympiad UI. Selamat kepada Tim Cipher karena semangat dan kerja keras kalian membuahkan hasil yang sangat baik!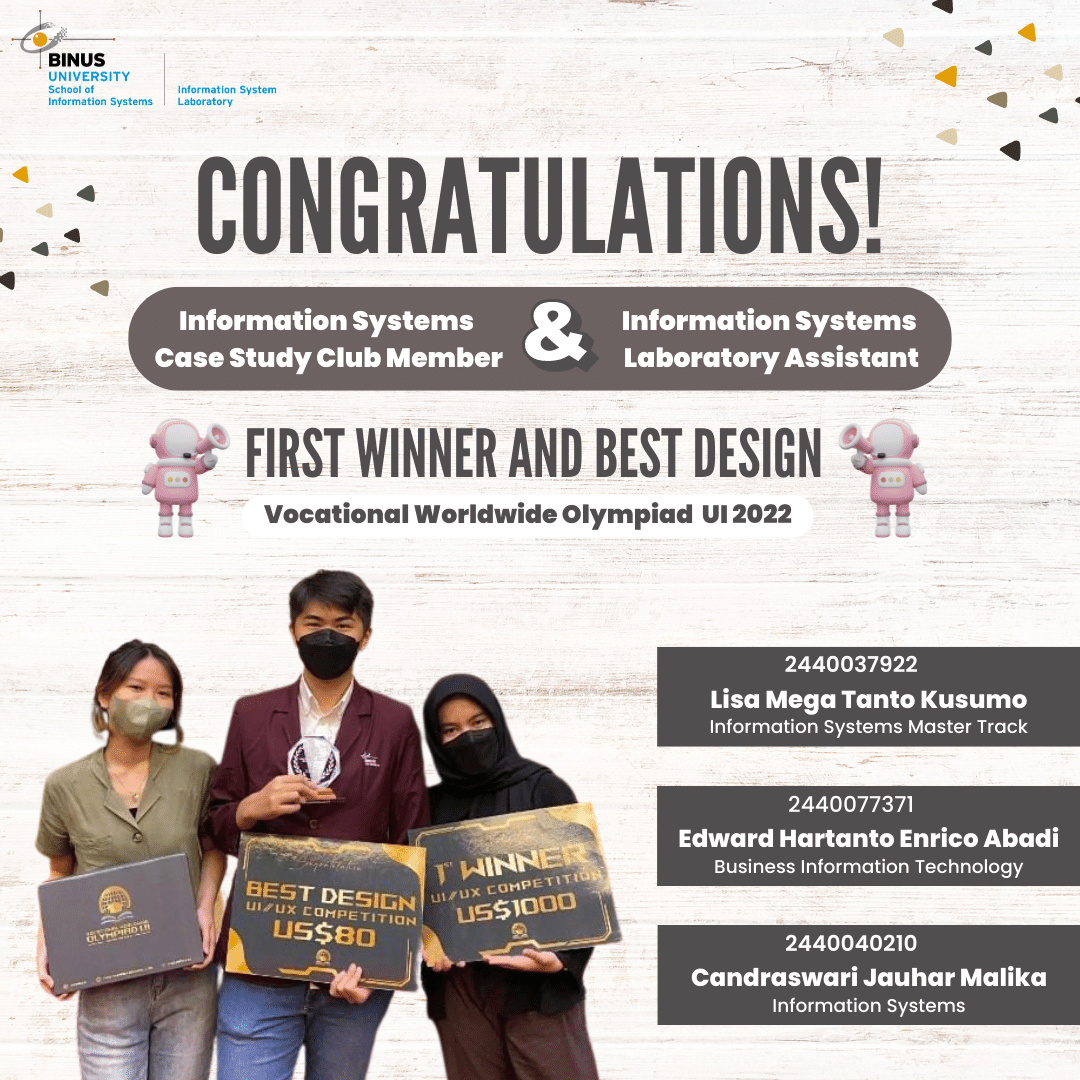 Kesan dan pesan dari Tim Cipher :
Edward Hartanto Enrico Abadi : "Sangat senang bisa mengasah kemampuan UI/UX secara lebih lagi di perlombaan international kali ini, banyak pengalaman serta feedback yang didapatkan dari juri yang dapat diimplementasikan dalam pengembangan aplikasi yang kami rancang."
Lisa Mega Tanto Kusumo : "Sangat senang dapat berkesempatan mengikuti lomba internasional yang dapat menambah skill dan pengetahuan seputar UI/UX melalui feedback juri."
Candraswari Jauhar Malika : "Seru banget dan berkesan banget lomba vwo! pokoknya makasih banyak untuk edward,lisa, kak monic, mis nuril yang udah sampe di tahap ini!!"