World Usability Day Alam Sutera Chapter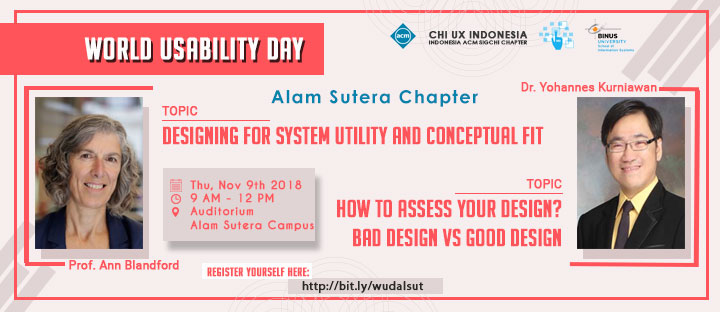 JOIN US FOR WORLD USABILITY DAY 
ON NOVEMBER 9th, 2018!
Alam Sutera Chapter
2018 THEME – DESIGN FOR GOOD OR EVIL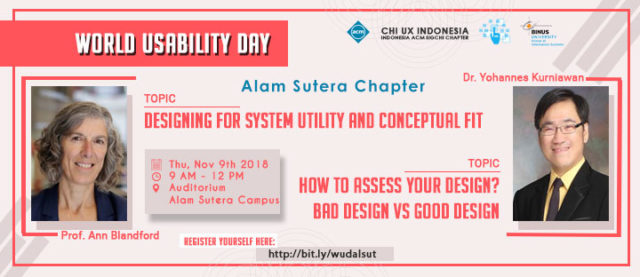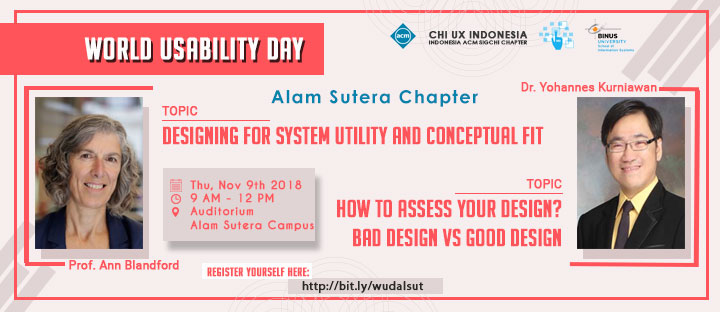 Happy World Usability Day!
Join us for a seminar hosted by School of Information Systems (BINUS University) and Indonesia ACM SIGCHI and hear UX experts share their stories and experiences about usability.
Location: Auditoriun BINUS University (@Alam Sutera Campus)
Date : Thursday, 9 November 2018
Time : 09.00 AM – 12.00 PM
PARTICIPATION IS FREE, BUT REGISTRATION IS COMPULSORY
What is World Usability Day?
World Usability Day is single day of events occurring around the world that brings together communities of  professional, industrial, educational, citizen, and government groups for our common objective: to ensure that the services and products  important to life are easier to access and simpler to use.
It is about celebration and education – celebrating the strides we have made in creating usable products and educating the masses about how usability impacts our daily lives. It is about making our world work better.
No one should have to suffer through products and services that get in their way. People should not be made to feel stupid by technology.
For more information, manifestos and ideas visit: www.worldusabilityday.org/
IN 2018, LET'S FOCUS ON WHAT WE CAN DO IN CREATING BOTH GOOD DESIGN AND PREVENTING THE DEVELOPMENT OF BAD DESIGN.