Customer Relationship Management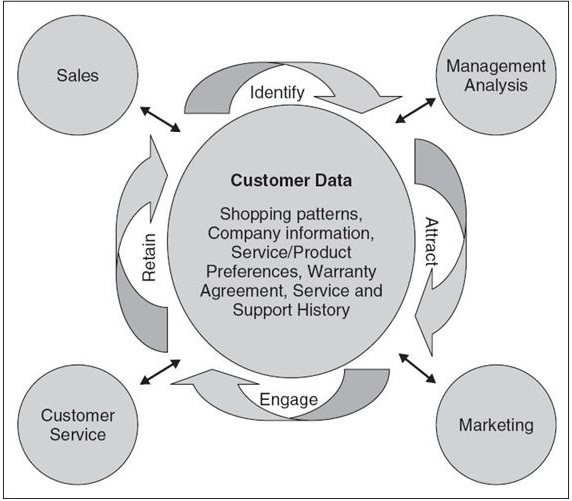 Customer Relationship Management merupakan sebuah cara untuk mengatur hubungan perusahaan dengan pelanggannya. Customer Relationship Management yang baik mengintegrasikan antar strategi perusahaan, metodologi bisnis, dan teknologi yang berguna untuk mencapai tujuan dari perusahaan yang ingin beroperasi di lingkungan pelanggan. Customer Relationship Management juga berfokus kepada strateginya, bukan hanya software yang akan digunakan saja.
Tipe dari CRM
Merupakan sistem yang menyediakan front-end  dan back-end yang mendukung sales dan marketing, administrative personnel atau customer service processes. Sistem ini terintegrasi dengan database perusahaan untuk menyediakan tampilan yang konsisten kepada pelanggan dari bagian manapun dalam perusahaan
Merupakan sistem yang menyediakan alat untuk mencari dan menganalisa data selama proses operasional untuk membantu membangun hubungan dan pengalaman yang baik dengan pelanggan.
Merupakan sistem yang membantu interaksi antara pelanggan dengan perusahaan. Fasilitias yang digunakan perusahaan diintegrasikan dengan CRM portal yang dimiliki oleh perusahaan sehingga pelanggan lebih mudah untuk mendapatkan informasi dan berinteraksi dengan perusahaan.
Komponen dari CRM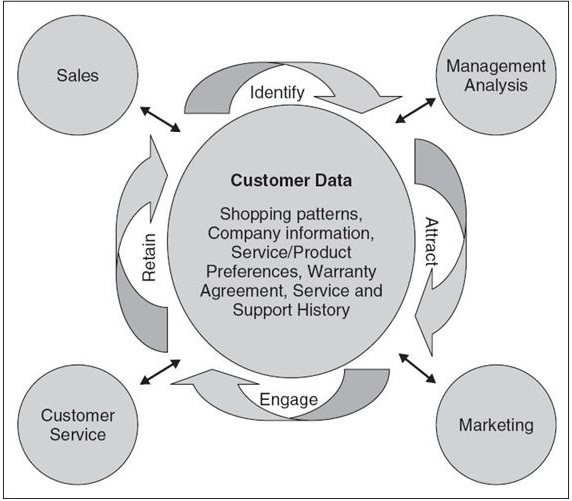 Gambar 1. Komponen CRM
Ada 2 fungsionalitas pada komponen ini yaitu campaign management dan market analysis. Campaign management mendukung kegiatan perusahaan untuk menyiapkan anggaran pemasaran, iklan, target penjualan dan pengaturan respon pelanggan. Sedangkan market analysis  merupakan sebuah alat untuk mendukung statistical and demographic analysis, web site traffic monitoring dan profiling tools.
Sales Force Automation (SFA)
Beberapa vendor dari CRM berawal dari sales force automation (SFA). SFA menyediakan fungsionalitas untuk penjualan manual menjadi penjualan yang telah terautomatisasi untuk melihat distribusi dan melacak barangnya, laporan penjualan, pipeline management, contact centralization and management, dan kolaborasi anggota dalam perusahaan.
Customer Service and Support
Fungsi dari customer service sekarang sudah mulai digantikan dengan adanya internet. Online help desk lebih cepat dan mudah dalam membantu pelanggan untuk menjawab pertanyaan teknis. Sekarang ini banyak perusahaan yang mengatur CRM dengan menyediakan 2 area help desk support center, dengan melalui customer service dan internet meliputi ticket management software, e-mail, interactive chat, web telephony dan interaksi dengan orang untuk mengakses database pelanggan.
Data Mining and Analytics
Hampir semua perusahaan e-commerce seperti amazon dan ebay memindahkan datanya dalam jumlah besar. Oleh sebab itu untuk mengatasi perpindahan data yang besar, perusahaan mulai menerapkan data mining dan analytics untuk mengumpulkan, mengurutkan, mengatur, menganalisa dan mengidentifikasi data dengan cepat, sehingga perusahaan dapat memberikan pelayanan yang terbaik sesuai dengan kebutuhan pelanggan.
Source :
Motiwalla, L. F. & Thompson, J., 2012. Enterprise System for Management. New Jersey: Pearson Education.