CRM – Customer Touch Points
From the last article, we talked about CRM helps companies acquire new customers and retain existing and expand their relationship with profitable existing customers. Organizations must recognize the numerous and diverse interactions that they have with their customers. These various types of interactions are referred as customer touch points.
But what exactly is a touch point? A touch point is defined as, all of the communication, human and physical interactions your customers experience during their relationship lifecycle with your organization. Whether an ad, Web site, sales person, store or office, Touch points are important because customers form perceptions of your organization and brand based on their cumulative experiences. And we can conclude the definitions for customer touch point is The Point of Interaction Between Brands, Businesses, Products and Customers.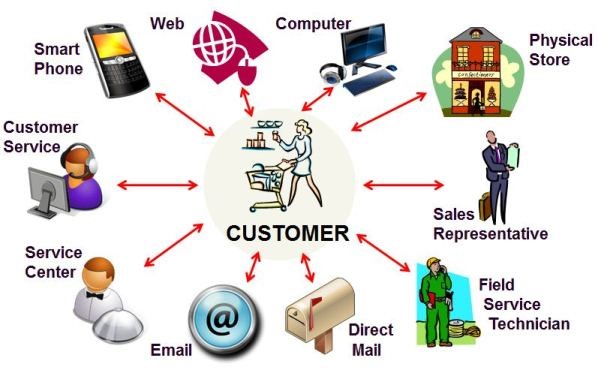 In Customer-Touching Applications, corporations have used manual CRM systems for many years. In the mid-1990's, organizations began using the Internet, the Web, and other electronic touch points to manage customer relationship. In contrast with customer-facing applications, where customers deal directly with a company representative, customers interact directly with these technologies and applications. Such applications are called customer-touching CRM applications or electronic CRM (e-CRM) applications. Customers typically can use these applications to help themselves.
Traditional customer touch points include telephone contact, direct mailings, and actual physical interaction with the customers during their visits to a store. Organizational CRM systems, however, must manage many additional customers touch points that occur through the use of popular personal technologies.  But for now, technologies has changed the customer touch points. Mostly, customers use e-mail, websites, and communications via smartphone to interact with the company representatives. Operational CRM systems support the front-office business processes that interact directly with customers. The two major components of operational CRM systems are customer-facing applications and customer-touching applications.
Actually what do customers expect from touch points? Chris Ridson, the Design Director of Adaptive Path, suggests that touchpoints should provide a customer with the following interaction types:
Appropriate (e.g. that both the context of the interaction and the cultural tone of the interaction meet the needs of the customer or user)
Relevant (e.g. that the function performed by the interaction meets the utility requirements of the customer or user)
Meaningful (e.g. that the interaction was perceived as important or purposeful by the customer or user)
Endearing (e.g. that the interaction created some form of bond with the user or customer for example through desirability, creating delight or a playful tone)
Source:
Introduction to Information Systems, 5th Edition Int'l Student Version
https://www.interaction-design.org/literature/article/customer-touchpoints-the-point-of-interaction-between-brands-businesses-products-and-customers
http://www.imediaconnection.com/articles/ported-articles/red-dot-articles/2004/nov/defining-customer-touchpoints/