What student thinks about BINUS School of Information Systems ?
By : Marcella Cindy Kusumaningrum (1401112973, Accounting & Information System Program)
Modern era which is fulfilled by the advanced of technology requires us to do everything further beyond the limit. Yet, resources and skills available are still limited. Hence, having a sufficient skill is an important aspect to be ahead of the competition.
Gaining knowledge and skills is not an easy matter to do. It has to be done since early stage and the peak stage reached when we are studying in the university. Therefore, choosing the right major in the university will lead you towards a better future.
Technology is related to some other aspects and one of them is business or economy. Nowadays, a lot of companies need the use of technology to support the operation of its business in order to have competitive advantages.
It is also complicated when it comes to choose which major is the best for me. After doing several researches, Information System (IS) seems very suitable for me since it is mostly about the technology and enterprises. In addition, business related major always be a very important thing for me which bring me to choose Accounting to be my second major.
Luckily, Binus University has double degree program (https://sis.binus.ac.id/double-degree-in-information-systems-accounting/) which make my dream to study in two different fields possible! Also, Binus University offers several programs in order to enhance both soft skills and hard skills of the student. I found that there are several advantages of studying in Binus University, and here are my experiences:
These days, two ways learning process is very important and Binus University adapts that effective learning process. Students are asked to discuss and share their ideas based on the theory they have learned. Such process is needed in order to develop the critical thinking process of the students. In addition, Binus University provides plenty of practical courses that enable the students to implement the theory practically.
Joining the double major program does not mean most of your time will be spent in school. Instead, I still have a bunch of leisure time and I decided to fill up my free time by having a part time job. Binus University offers several kinds of part time job which is specially designed for its student. Therefore, you are able to experience how it feels to be a worker while pursuing a degree.
Information System – Accounting double major program involved two faculties and three different kinds of laboratory and you can be the member of the laboratory! It is interesting, isn't it? The Information System major provides two types of laboratory, including Information System Laboratory and Software Laboratory Center. Accounting major has it owns laboratory that is Accounting Laboratory. I, personally, choose to be a member of Information System Laboratory as a laboratory assistant, who is responsible in delivering the materials of several IS courses.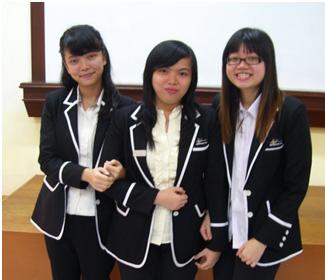 In this modern era, globalization is needed in order to broaden our perspective and views. Binus University is aware that a different approach is needed. In consequent, Binus University offers student exchange programs and short course program that brings the students to come through a different education life by taking their courses abroad using a foreign language.Joining a student exchange program is an important turning point of my life. I could experience how it feels to live far away from your family and to meet people with various backgrounds, how to adapt to a very different society, and so on.Short saying, exchange student period is the best moment of my life!
What are you waiting for ? visit us : https://sis.binus.ac.id/
Determine your future from now ! (http://binus.ac.id/future-students/.)