Study Tour Luar Negeri HIMSISFO 2012 – STALLION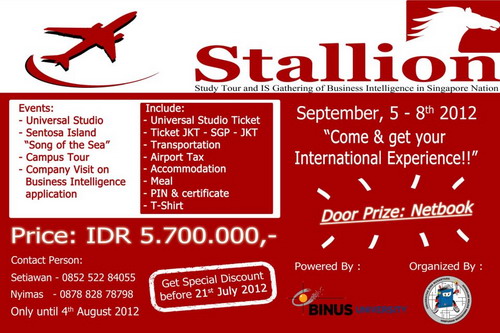 Saat ini, HIMSISFO akan mengadakan acara STUDY TOUR LUAR NEGERI HIMSISFO 2012 yang bertemakan "STALLION" (Study Tour and IS Gathering of Business Intelligence in Singapore Nation), Study Tour ini memiliki tujuan dan manfaat yang nantinya akan diberikan kepada  peserta Study Tour. Tujuannya yaitu menambah ilmu pengetahuan dan memperluas wawasan para peserta, menambah pengetahuan peserta mengenai Business Intelligence dan tentunya menambah international experience untuk para peserta, selain itu ada beberapa manfaat yang dapat diperoleh oleh para peserta antara lain dapat melihat perkembangan Sistem Informasi, gambaran pengaplikasian dan cara Business Intelligence dalam sistem ERP serta menambah pengetahuan mengenai DSS ( Decision Support System).
Dimana acara ini akan diselenggarakan pada :
Hari/Tanggal:  Rabu / 5 September 2012  –  Sabtu /8 September 2012
Tempat:
 Perusahaan Business Intelligence di Singapore dan,
 Singapore Management University  50 Stamford Road 178899 Singapore, Singapore
 Tempat-tempat wisata di Singapore.
Karena bertepatan dengan liburan pergantian semester ganjil ke genap, maka acara Study Tour Luar Negeri HIMSISFO 2012 ini bisa menjadi  pilihan untuk mengisi liburan mahasiswa dan mahasiswi BINUS University, dimana mahasiswa dan mahasiswi dapat berlibur, menambah pengetahuan mengenai Business Intelligence dan memiliki pengalaman yang tentunya sangat berharga, menarik dan tak terlupakan. Pastinya sangat disayangkan jika melewatkan moment-moment penting dari Study Tour Luar Negeri HIMSISFO 2012 "STALLION" yang diadakan oleh HIMSISFO(Himpunan Mahasiswa Sistem Informasi) BINUS University ini.
*dapatkan SPECIAL PRICE untuk pendaftaran sebelum tanggal 21 Juli 2012, untuk pendaftaran dan informasi lebih lanjut, silahkan menghubungi  :
Contact Person :  Setiawan          0852 522 84055
Nyimas              0878 828 78798