APEX Global 2011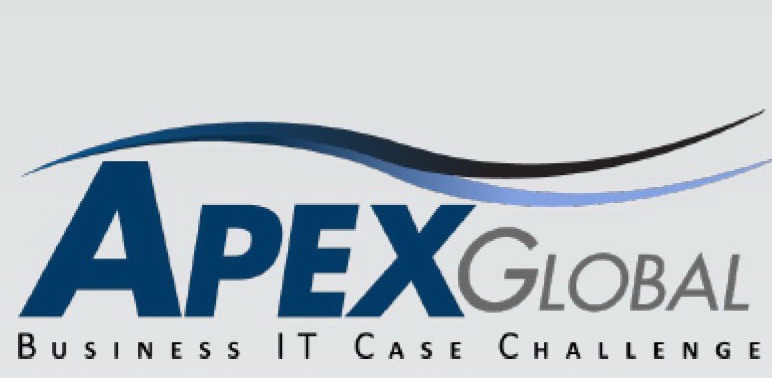 SEMIFINALIS APEX Business-IT Case Challenge 2011
Guna mendukung pencapaian visi binus sebagai Universitas taraf Internasional, Jurusan Sistem Informasi BINUS University mengituku perlombaan APEX Global Business IT Case Challenge 2011.
APEX merupakan Perlombaan Business-IT Case yangberlangsung selama 5 hari yang diadakan oleh School of Information Systems, Singapore Management University. Ada 27 Universitas dari 14 Negara yang berbeda berpartisipasi, dengan masing-masing team terdiri dari 3 orang  Peserta dan 1 Pembimbing (Coach).
Team dari BINUS University yang diberi nama "Biztech Consulting" terdiri dari Fredy Jingga sebagai Coach, Benny Fajarai (Teknik Informatika BINUS), Tinnike ( Sistem Informasi BINUS), dan Nia Utami Tirdanatan (SI-AK Ganda BINUS).
Tahun ini merupakan kedua-kalinya BINUS University mengikuti APEX Global Business-IT Case Challenge dan juga di tahun ini, BINUS University Berhasil masuk sebagai salah satu dari 8 Semifinalis.(University of Gadjah Mada, Ateneo de Manila, Copenhagen Business School, University of Florida, Kwantlen Polytechnic University), The University of Hongkong, and University of Minnessota)
Setiap Team Memiliki 24 Jam dan akan dikarantina didalam ruangan hotel untuk menganalisa situasi yang dihadapi oleh Perusahaan dan masing-masing team diminta untuk memberikan rekomendasi atas permasalahan yang dianalisa didalam kasus.
Tema untuk APEX Global Business IT Case Challenge 2011 adalah "Business Analytics", dan di tahun ini Deloitte Analytics menjadi Sponsor Utama, dan juga case partner. Peserta tahun ini akan memainkan peran sebagai konsultan Deloitte  dan akan diberikan kasus yang cukup menantang.