Customer Relationship Management
Do you know about CRM?
All companies try to grow and compete with each other to increase profits, obtain large revenue results, have professional employees because the most important is the customer. In marketing to introduce products, companies strive to reach as many customers as possible. The more variety of products the greater the opportunity for customers to get the products they want and according to their needs. But the company must provide products that match the wants and needs of customers. CRM is present as a strategy that can help a company.
CRM is an approach taken by managing company relationships with new or old customers by maximizing and maintaining communication and marketing through a variety of different tools according to needs. This approach allows companies to retain customers and attract new customers so they can expand customers or target customers. CRM can help companies stay connected with customers, streamline processes, increase profits from sales and customer satisfaction. In addition, CRM also maintains relationships with contact management, sales management, productivity, and etc.
What is the difference with e-CRM?
E-CRM is a part of CRM that uses an online approach or digital communication technology to maximize sales to existing customers and encourage sustainable use. Looking at the current era of globalization, people rarely use media such as newspapers, magazines, television, and etc. Here's the company can see opportunities from the media used by the community to more easily interact with customers. By using online, web marketing can track past and present customer behavior so that companies can adjust communication and trends to drive future purchases. In addition, using electronic channels can have the advantage in terms of sending messages and marketing to customers with a relatively low cost than before, which must be manually and one by one not automatically spread.
Why is E-CRM important?
The following benefits will be obtained if the company implements the E-CRM approach:
– Increasing number of consumers and building loyalty to customers.
– Knowing the customers' needs now and in the future.
– Knowing any abnormalities in each transaction activity.
– Knowing the improvement in services provided to customers.
– Analyze transaction data patterns and detect abnormalities if an error occurs in the transaction.
Stages of CRM
In applying the CRM approach we can use 3 stages, as follows:
1. Acquire
Acquire is a term for acquiring new customers, the company can focus on giving the best impression to customers. By doing several ways:
– Give comfort and satisfaction to customers when they buy products.
– Give a good initial impression for new customers.
2. Enchance
Enchance is the company's process of adding value to customers. In providing this added value, companies are required to create close relationships with their customers as often as possible. By doing several ways such as:
– Listen to every complaint and fast response.
– Make customers calm and trust the company.
– Implement cross selling or up selling to increase company revenue and reduce costs to obtain customers.
3. Retain
Retain is the stage to retain customers.
– Listen customers' needs and complaints.
– Record errors, complaints and weaknesses.
– Providing better solutions and services.
Example of one company that implements CRM
GRAMEDIA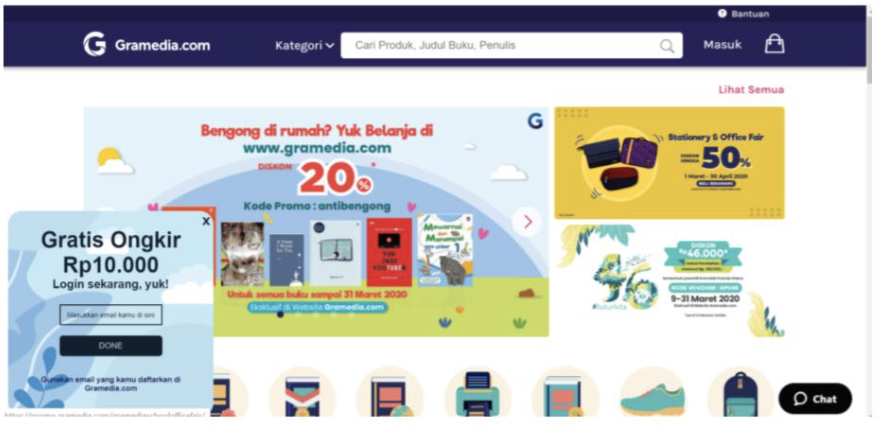 Gramedia is one of all companies that applies the CRM approach to the gramedia.com website, when customers open a website there are cookies that appear offering discounts and customers can enter email addresses. This email address can be used by companies to be able to maintain communication with new customers or existing customers by sending information about promotions, inviting users to view the latest products available on the website and etc,

In addition, Gramedia also makes cookies such as button chat or support to help customers if they have problems, this can help customers to interact with customers more easily such as providing reports that can be processed until finished by the company. here the customer can enter the email address that can be contacted, a message that explains the problem or problem experienced by the customer and the customer can upload supporting documents. then the company can do the next process and continue the interaction using email. With CRM, gramedia can increase marketing efforts by utilizing existing databases, including products that have been purchased by previous customers and information on other market segments. Gramedia companies take advantage of the internet for their online operations to obtain its own benefits with this database approach.