Digital Marketing_part.2
Objective setting
Effective digital marketing plans are based on clearly defined objectives since these will inform the strategies and tactics and help in communicating the strategic aims to the workforce and investors.  Strategies are agreed to be most effective when they support specific business objectives. A useful technique to help align strategies and objectives is to present them together in a table together with the insight developed from situation analysis which may have informed the strategy.

Table 8.3 | The relationship objectives, strategies and performance indicators for a B2B company (in order of priority)

Objectives

 

Substantiation (informed by situation analysis or insight, example)
Strategies to achieve  goals

 

Key performance indicators (critical success factors)

Acquisition objective. Acquire 50,000 new online customers this financial year at an average cost per acquisition (CPA) of £30 with an average profitability of 5%

Based on growth forecast based on current sales of 40,000 sales per year, but with incremental sales arising from new affiliate program and SEO development
Start affiliate marketing program and improve SEO. Existing media mix based on  pay‑  per‑  click and display advertising supported by offline media

Overall CPA for online sales. Incremental number and %  of sales from affiliate marketing program Number of strategic keywords ranked in top positions in natural search results page

Acquisition (or conversion) objective. Migrate 40% of existing customers to using online 'paperless' bill payment services and email communications within 3 years

Extrapolation of current natural migration coupled with increased adoption from offline direct marketing campaign
Direct marketing campaign using direct mail, phone prompts and online persuasion to encourage adoption. Use of incentive to encourage change
Number and percentage of existing customers registering to use online services Number and percentage of customers actively using online services at different  points after initially registering

Conversion objective. Increase the average order value of online sales to £42 per customer

Growth estimated based on current AOV of £35 plus model suggesting 20% increase in AOV
Use of new merchandising system to show users related ' next‑  best product' for different product categories

% of site visitors responding to merchandising/ cross‑  selling message

Conversion objective. Increase site conversion rate to 3.2%

Model showing separate increase in conversion for new and existing customers based on strategies shown on the right
Combination of strategies:

•Incentived email follow‑up on checkout abandonments for new customers

•Introduction of more competitive pricing strategy on best sellers

•AB and multivariate messaging improvement of landing pages

•refinement to quality of traffic purchased through pay-per-click programme

Variations in conversion rates for new and existing customers in different product categories

Retention objective. Increase annual repeat new customer conversion rate by 20%

Business case based on limited personalisation of offers to encourage repeat purchases via email.
•delivery of personalised product offers by email

•5% second purchase discount vouchers

Increased conversion rate of retention email contact programme

conversion to sale for second purchase discount campaigns

Growth objective. Increase new prospects recommended by friends (viral marketing or 'member get member') by 10,000 per annum

Model based on encouraging 2% of customers to recommend friends annually (based on trial scheme
Supported by direct mail and email recommendation programme

response rate to direct mall campaign
Tactics
Marketing tactics to implement strategies and objectives are traditionally based around the elements of the marketing mix and models of how to engage customers throughout their life cycle as part of customer relationship management.
the 4Ps of Product, Price, Place and Promotion originally proposed by Jerome McCarthy (1960)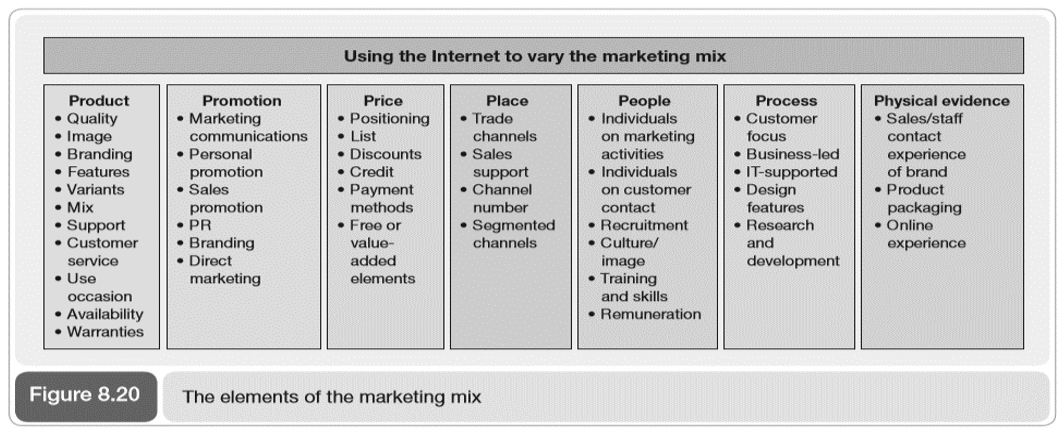 Actions
The actions component of digital marketing planning refers to activities conducted by managers to execute the plan. Questions that need to be resolved when specifying actions include:
What level of investment in the Internet channel is sufficient to deliver these services? What will be the payback?
What training of staff is required?
What new responsibilities are required for effective Internet marketing?
Are changes in organisational structure required to deliver Internet- based services?
What activities are involved in creating and maintaining the website?