Dunham and Pierce's Leadership Process Model
Menurut Randall B. Dunham dan Jon Pierce ada empat elemen esensial yang membentuk proses kepemimpinan.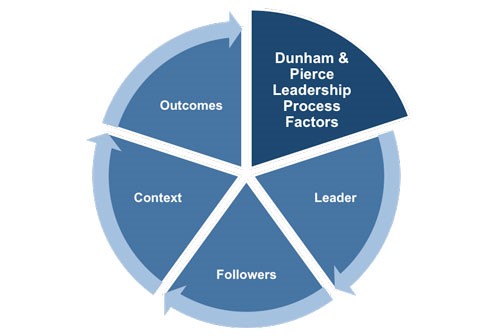 Source: http://www.free-management-ebooks.com/faqld/leadtheory-03.htm
Elemen Model Proses Kepemimpinan Dunham dan Pierce:
The Leaders (Pemimpin)
Orang yang memiliki tanggung jawab dan yang bertanggung jawab untuk memimpin dan membimbing tim.
The followers (Para pengikut)
Orang-orang yang mengikuti instruksi pemimpin dan yang memiliki peran khusus yang dipaksakan oleh pemimpin, dengan peran yang melaksanakan tugas-tugas yang diperlukan untuk proyek tempat mereka bekerja.
Context (Konteks)
Ini adalah lingkungan tempat proyek dihasilkan. Ruang kerja, tantangan yang dihadirkan proyek, organisasi, sumber daya, dll.
Results (Hasil)
Ini adalah hasil dari proses tersebut. Hasilnya adalah pencapaian tujuan yang ditetapkan dalam proyek tersebut, penyelesaian masalah antara lain. Ini juga merupakan hasil positif dari kepercayaan yang tercipta dalam proses antara pemimpin dan anggota (pengikut).
Secara umum, model ini berbicara tentang pentingnya seorang pemimpin untuk dapat mengidentifikasi pentingnya pengikutnya dan konteks di mana mereka berada untuk mencapai hasil yang diinginkan.
Biasanya keputusan atau tindakan pemimpin memengaruhi tim menjadi lebih baik atau lebih buruk, tetapi juga harus dicatat bahwa tindakan pengikut juga dapat menimbulkan perasaan atau situasi tertentu di pihak pemimpin. Seorang pemimpin harus bisa mengidentifikasi seperti apa keadaan timnya dan bagaimana tindakan ini dapat membawa kesuksesan jika dipahami dan ditangani dengan tepat dalam konteks yang diperlukan.
Ini adalah cara bagaimana pemimpin, pengikut dan konteks saling terhubung untuk mempengaruhi hasil akhir yang didapat. Dan hasil ini akan menjadi umpan balik untuk memengaruhi para stakeholders. Kepemimpinan adalah proses berkelanjutan yang aktif dan dinamis. Penting untuk memiliki hubungan yang baik dengan pengikut untuk mendapatkan hasil sukses yang diinginkan.
References:
http://www.andihanifmursid.com/2016/12/dunham-and-pierces-leadership-process.html
https://www.toolshero.com/leadership/dunham-and-pierces-leadership-process-model/
http://www.free-management-ebooks.com/faqld/leadtheory-03.htm