International Case Study Competition Candidates Recruitment
School of Information Systems kembali hadir dengan salah satu Program Unggulannya yaitu "International Case Study Competition Candidates Recruitment" . School of Information Systems membuka kesempatan kepada Mahasiswa Aktif Binus University untuk mengembangkan Potensinya melalui Case Study Competition baik di tingkat Nasional maupun Internasional.
Bagi kalian yang ingin mendapatkan pengalaman untuk berkompetisi, mengasah analytical thinking, mengasah communication skill, menambah teman dari berbagai Universitas baik di dalam negeri maupun di luar negeri, meningkatkan kemampuan berbahasa inggris baik secara lisan maupun tertulis, Kami mengajak kalian semua untuk bergabung dalam kegiatan ini.
Pendaftaran dibuka tanggal 4 Desember – 18 Desember 2015
Melalui : http://goo.gl/forms/xduCqaxdD8
Setelah melakukan pendaftaran, kami akan menghubungi kalian melalui Email untuk informasi mengenai Tahap Seleksi dan Training.
Beberapa Kompetisi yang akan kalian ikuti adalah
APEX Business-IT Global Case Challenge (apex.smu.edu,sg)
APEX Business-IT Global Case Challenge is an annual case competition that highlights the intertwined nature of business and IT. This challenge is hosted and supported by the School of Information Systems, Singapore Management University (SMU). The organising committee comprises undergraduate students from various schools across SMU, reflecting the highly interdisciplinary nature of the competition.

HSBC Business Case Competition
This year we expect 24 teams from universities across the Asia Pacific region to take part and more than a few countries/regions will host their own national competitions before sending their country winners to Hong Kong to compete in the HSBC/HKU Asia Pacific Business Case Competition 2015. This annual competition is organized by the Asia Case Research Centre at The University of Hong Kong and this year marks the eighth year that HSBC has generously supported the event.
International Case Study Competition Candidates 2015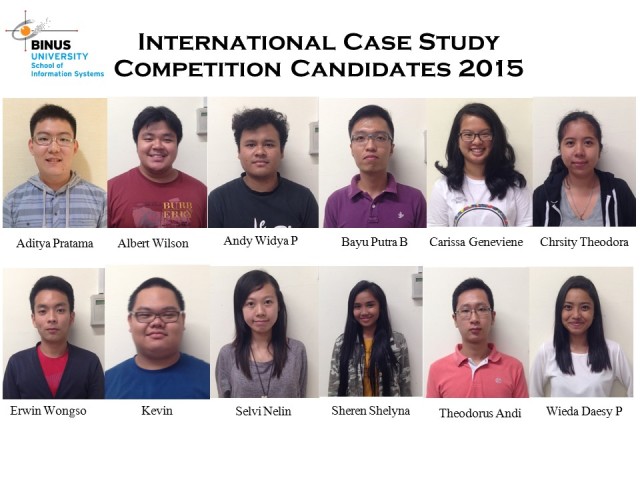 Untuk informasi lebih lanjut, kalian dapat datang langsung ke Laboratorium Sistem Informasi, Ruang M1A, Kampus Syahdan atau melalui email islabbinus@gmail.com