Information System Project Member Recruitment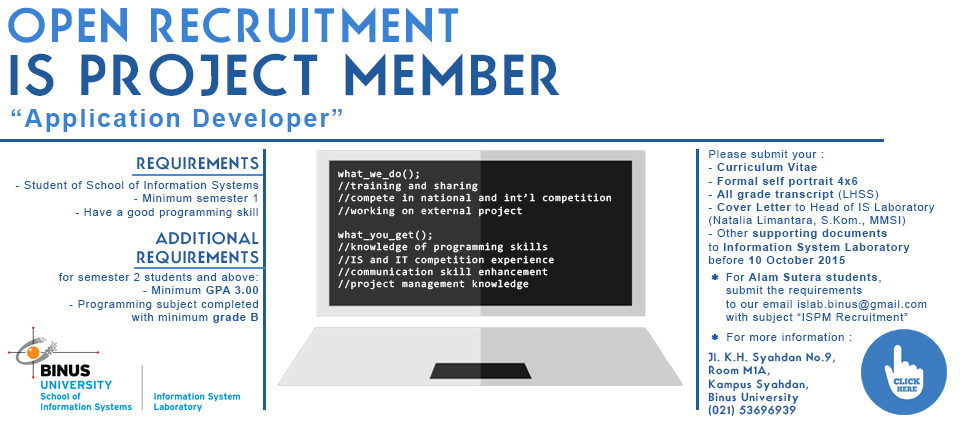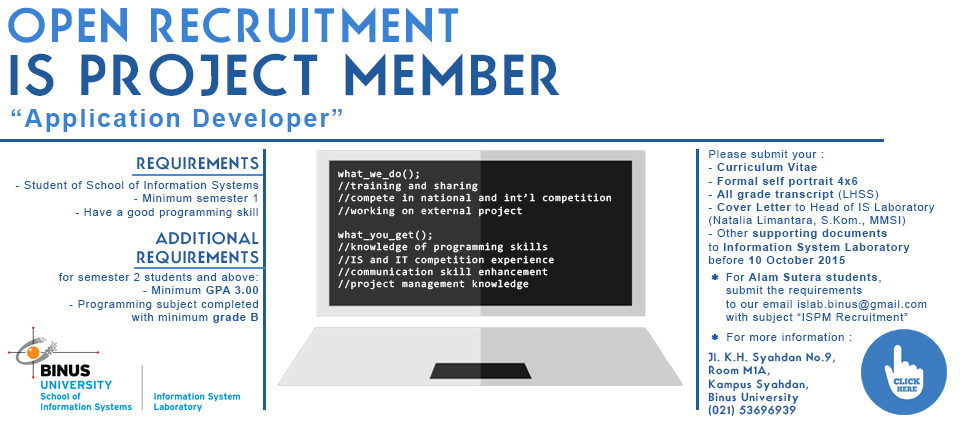 Hi, Information System Project Member Recruitment is now opened. To know more about IS Laboratory please click this link : http://sis.binus.ac.id/is-laboratory/
What is Information System Project Member?
ISPM is a part of IS Lab member that focuses on developing programming skills that will be used in competitions and the development of several projects related to information system.
What are the benefits of being Information System Project Member?
Knowledge of Programming Skills
IS and IT Competition Experience
Communication Skill Enhancement
Project Management Knowledge
Training and Sharing
Compete in National and International Competition
Working on External Project
The requirements :
Active Student of School Information Systems
Minimum semester 1
Have a good programming skill
Additional requirements for semester 2 students or above:
Minimum GPA 3.00 / 4.00
Programming subject completed with minimum grade B
Steps to be an Information System Project Member:
Submit Documents (Deadline : October 17th, 2015)
Training
Programming Test
Interview
If you interested, please submit your :
Curriculum Vitae
Formal self portrait 4 x 6
All grade transcript (LHSS).
Cover Letter to Head of Information System Laboratory (Natalia Limantara, S.Kom., MMSI)
Other supporting documents (Certificate, etc)
Submit your documents to :
Kemanggisan Area : Information System Laboratory, Room M1A, Syahdan Campus 1st floor
Alam Sutera Area : send to our email binus@gmail.com with subject "ISPM Recruitment"
Please submit your document before October 10th, 2015.
Announcement will publish at Announcement Board in front of Information System Laboratory (Syahdan Campus) and Binusmaya.