Level 1 pada Enterprise Architecture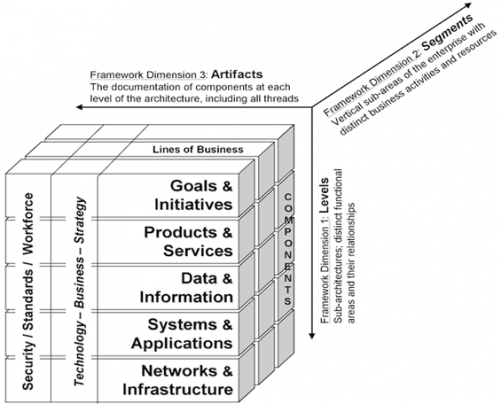 Mengembangkan skenario masa mendatang untuk perusahaan manufaktur (yang mempunyai sebuah pabrik) bertujuan untuk mengetahui jumlah penjualan barang pada pasar dan mengetahui berapa banyak barang yang harus diproduksi agar dapat memenuhi kebutuhan pasar tersebut. Berdasarkan framework EA di bawah ini maka langkah-langkahnya dapat meliputi goals&Initiatives, Products& Services, Data & Informasi, dan seterusnya, sebagai berikut.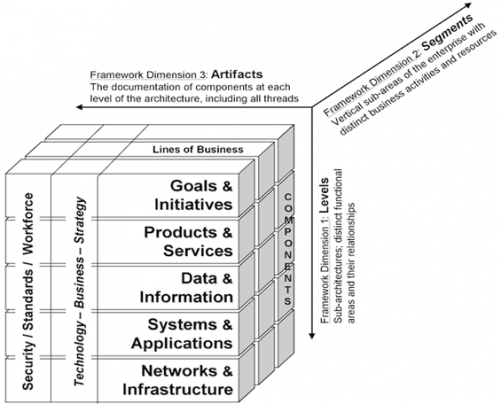 Goals and initiatives : Setiap pabrik atau produsen selalu menginginkan data terbaru mengenai penjualan mereka oleh sebab itu selalu terjadi inovasi dalam mengumpulkan informasi penjualan barang.
Products and Services : Konsumen tidak boleh terganggu oleh kebutuhan perusahaan untuk mengetahui jumlah barang yang terjual oleh sebab itu diberlakukan sistem barcode dan RFID untuk mendeteksi penjualan barang pada toko – toko distributor.
Data and Information : Melalui sistem barcode dan RFID data dapat otomatis terupdate dan user dapat langsung mengetahui jumlah pembayaran pada setiap distributor.
Systems and Application :Setiap barang memiliki RFID dan barcodenya masing – masing oleh sebab itu system akan secara otomatis mencatat setiap barang yang terjual berdasarkan kelompoknya masing – masing.
Networks and Infrastructure. : Data penjualan dibangung tidak hanya melalui barcode dan RFID pada barang saja tetapi juga dengan sistem komputer yang mendukung dan sudah terintegrasi dengan pusat. (Disiapkan oleh : Dasa Januari, 27/08/2014)