Intelligence Transportation System (ITS)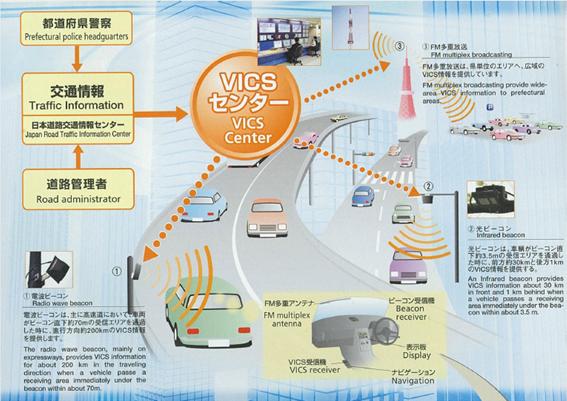 IT telah mentransformasi banyak industri, mulai bidang pendidikan hingga pemerintahan. IT juga telah mengubah sistem transportasi. Perbaikan sistem transportasi tidak hanya memperbaiki infrastruktur jalan yang telah rusak, atau membangun jalan baru, tetapi juga dapat menggunakan dukungan IT yaitu dengan menggunakan Intelligence Transportation System. Dengan penggunaan ITS maka akan membawa perbaikan terhadap performa, termasuk meningkatkan keamanan serta kenyamanan pengguna transportasi. ITS dapat dikelompokkan dalam lima kategori utama yaitu :
  Advanced Traveler Information System, di mana pada sistem ini para pengguna transportasi dapat mengetahui informasi secara real time, seperti jadwal, rute transit, arahan navigasi, traffic operation center
Advanced Transportation Management System, termasuk traffic control devices, ramp meters, traffic signals, traffic operations center
Intelligence Transportation System Enabled Transportation Pricing System, termasuk electronic toll collection, congestion pricing, fee-based express (HOT) lanes and vehicle miles traveled (VMT) usage based fee system.
Advanced Public Transportation System, di mana bus atau kereta dapat memberikan laporan kepada penumpang terkait status realtime posisi bus atau kereta tersebut (informasi kedatangan dan keberangkatan).
Fully integrated intelligence transportation system, seperti vehicle-to-infrastructure and vehicle-to-vehicle integration, memungkinkan komunikasi antar asset di antara sistem transportasi.
Tabel 1. Klasifikasi Contactless Mobile Payment Application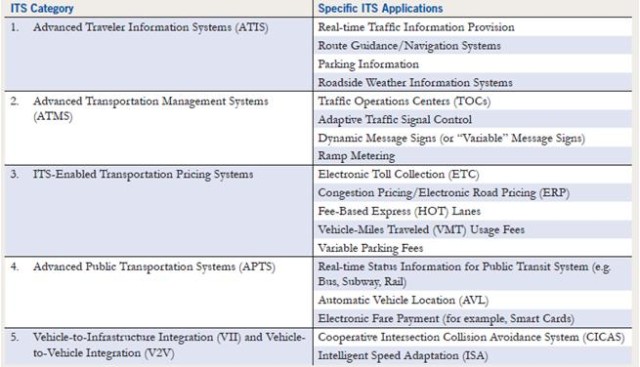 Keuntungan menggunakan Intelligence Transportation System antara lain :
 Meningkatkan keamanan,
Meningkatkan performa operasional,
Meningkatkan mobilitas dan kenyamanan,
Memberikan environmental benefit,
Meningkatkan produktivitas, pertumbuhan ekonomi, dan employment.
Gambar 1. Contoh Teknologi yang Dibutuhkan Terkait Real-Time Traffic Information Systems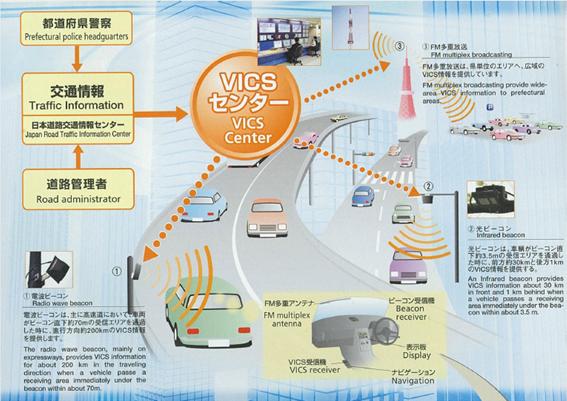 Gambar 2. Sistem Komunikasi dan Informasi Kendaraan di Jepan
Negara Singapura merupakan negara pertama yang memperkenalkan electronic congestion pricing system pada tahun 1998. Negara ini telah menerapkan adaptive computerized traffic signals, memasang real-time bus status screen pada hampir semua lokasi terminal bus, serta telah launching national parking guidance system pada bulan April 2008. i-Transport System merupakan sebuah sistem predictive traffic flow modeling berdasarkan penggunaan data histori dan data real time traffic.
Untuk sistem MRT di negara Singapura, SMRT bekerja sama dengan Motorolla sebagai penyuplai integrated digital communication system untuk operasi MRT. SMRT (Singapore MRT Ltd.) merupakan operator kereta yang menghubungkan penumpang dengan central business district dan tempat wisata, di mana penumpang dapat melakukan pembayaran secara elektronik (dengan menggunakan kartu) serta mengetahui informasi kedatangan kereta melalui layar. Sistem SMRT telah menerapkan Intelligence Transportation System yang memudahkan penumpang dalam memperoleh informasi (Visual Passengers Information System). Benefit yang didapatkan dengan penerapan ITS pada SMRT adalah efisiensi operasional proses bisnis, reliability dan performance yang lebih baik.