Seminar: Open Data untuk Pembangunan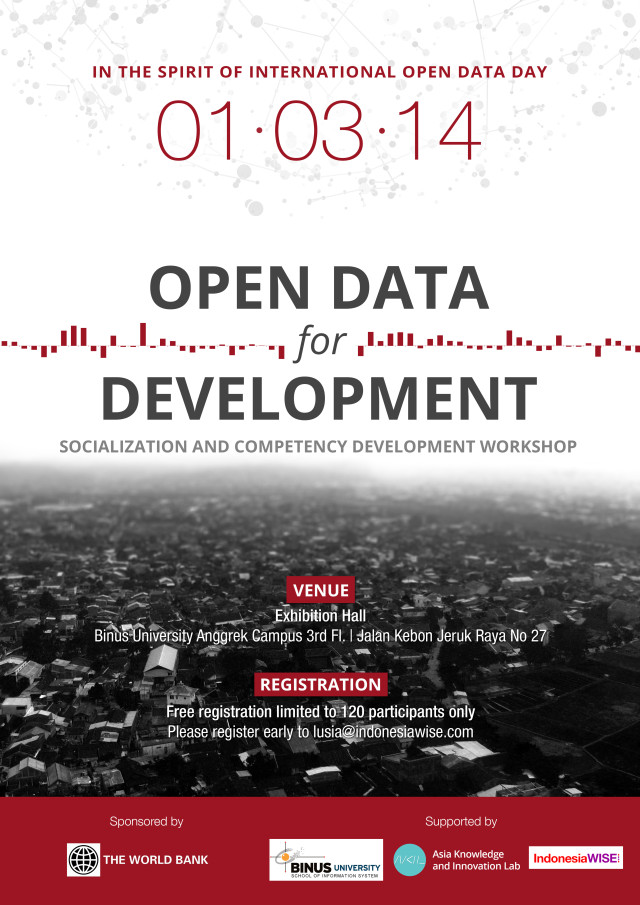 Open Data untuk Pembangunan : Lokakarya Pembangunan Kompetensi dan Sosialisasi
Tujuan Acara:
Open Data secara positif membantu negara-negara berkembang untuk bertransformasi dan merupakan alat yang sangat berdaya untuk mendukung pembangunan di Indonesia. Open Data memberikan akses data
yang sangat membantu untuk analisa, prakiraan, kebijakan dan proses pengambilan keputusan. Sejalan dengan tren dan penggunaan Open Data yang semakin meningkat, sangat perlu adanya pemahaman yang benar tentang topik dan fokus aplikasi praktisnya untuk manfaat yang lebih besar bagi masyarakat.
Peran serta universitas, akademisi, mahasiswa, komunitas TI, e-entrepreneurs dan organisasi masyarakat sipil merupakan komponen yang sangat penting dalam penggunaan dan penerapan Open Data. Untuk memfasilitasi pemahaman yang benar mengenai topik tersebut dan memberikan informasi perkembangan terkini tentang Open Data kepada para pemangku kepentingan di Indonesia, sebuah lokakarya akan diadakan di Binus University pada hari Sabtu, 1 Maret 2014  pk. 08.30 – 16.30 WIB yang merupakan kerjasama antara The World Bank, Binus University School of Information System, Asia Knowledge and Innovation Lab, dan IndonesiaWISE.
Seminar Gratis, mendapatkan Sertifikat, Lunch, dan Snack.