Model Organisasi Jaringan pada Arsitektur Enterprise
Model Jaringan Organisasi atau Organizational Network Model  adalah merupakan model jaringan yang didasarkan pada jaringan kerjasama dari pekerja pekerja lokal dan jarak jauh yang melaksanakan fungsinya. Dalam sebuah enterprise, ini bertujuan agar efisiensi biaya dan fleksibilitas untuk mencapai misi dengan menghilangkan lapisan-lapisan management yang tidak perlu yang umumnya terdapat dalam mode operasi desentralisasi. Pada model ini team eksekutif mengatur kebijakan , tujuan, menyetujui sumberdaya dan mengevaluasi hasil, sedangkan Functional Team(Tim Fungsional) dan Independent worker mengelola program didalam sebuah line of business (LOB) yang sedang berjalan, proyek pengembangan baru, dan sumberdaya tim yang khusus.
Jadi model organisasi ini, akan menghubungkan dan membagi team secara jelas berdasarkan kepada ruang lingkup tugasnya, dimana terdapat Executive team, functional team, dan independent team. didalam model jaringan dimungkinkan melibatkan functional team yang berasal dari luar organisasi (lihat gambar). Executive team berperan dalam menentukan tujuan, menetapkan kebijakan, hingga proses evaluasi pencapaian pekerjaan, sedangkan functional team dan independent team bertugas dalam melaksanakan seluruh program yang telah direncanakan.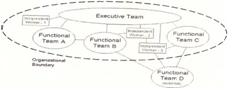 Model Jaringan Organisasi berbeda dengan matrix organisasi. Karena pada dasarnya Matrix organisasi digunakan untuk memudahkan pengembangan pelaksanaan beragam program atau proyek. Sedangkan model jaringan,  lebih mendukung spesifikasi pada Line Of Business. Sehingga bertolak belakang dengan matrix Organisasi yang terdapat sedikitnya dua variabel dapat berupa struktur (unit kerja) dan fungsi yang melakukan pengerjaan 1 fungsi terhadap 1 proyek begitu seterusnya.
Tipe organisasi dan enterprise baru yang disusun berdasarkan kerjasama dari pekerjapekerja local dan jarak jauh yang melaksanakan fungsinya. Dimana tujuan dan fungsinya mungkin berubah tergantung pada pengaruh internal dan eksternal. Dalam enterprise ini, efisiensi biaya yang lebih besar dan fleksibilitas misi dicapai dengan menghilangkan lapisan-lapisan management yang diperlukan dalam mode operasi desentralisasi.